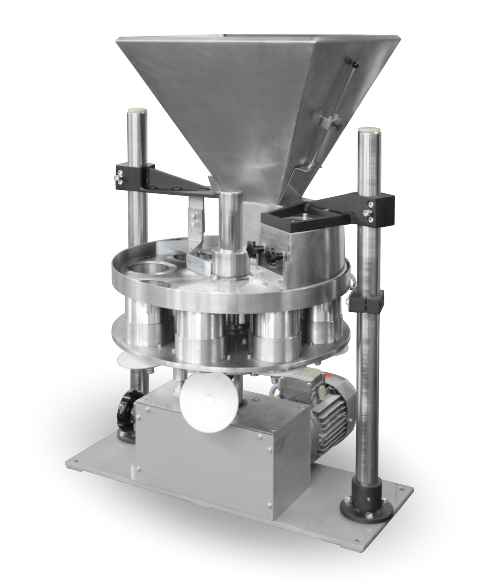 Accurate volumetric dosing
Volumetric fillers are used for dosing small loose products, abrasive and not dusty products such as granulated sugar, salt, rice, peas, lentils, coffee, poppy seeds, some types of pasta such as rigatoni, shells and other goods such as compound feed, granulates, etc.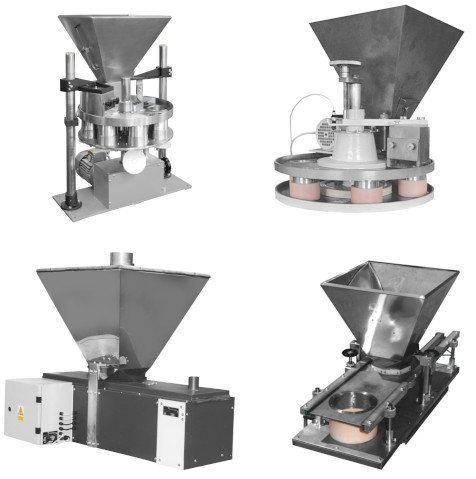 A lot of types ...
... flap filler, slide filler, friction filler, etc.
This filling device is standard developed especially as the filling device for packaging machine of MH type, in which case the control of filler is provided by the packaging machine.
It can be used also as an independent filling device with outside control panel, or it can be adjusted as the filling device for packaging machine of another producer, or other construction.
For filling of the feeding hopper is optimal to use feeding conveyor VD1.
Technical parameters
Flap volumetric filler
Volumetric fillers
Filler type
KL1
MD2
MD3
DS1
DS2
Output*
up to 110 doses/min.
up to 60 doses/min.
up to 80 doses/min.
up to 8 doses/min.
up to 15 doses/min.
Dose volume
800 ml - 7000 ml
35 ml - 1500 ml
Dose volume of one cup
85 ml - 1840 ml
80 ml - 960 ml
150 ml - 3500 ml
Power supply
3 x 230 V/400 V - 50 Hz
3 x 230 V/400 V - 50 Hz
3 x 230 V/400 V - 50 Hz
230 V - 50 Hz
230 V - 50 Hz
Power
370 W
120 W
550 W
50 W
50 W
Noise
up to dB
up to 50 dB
up to 50 dB
Machine weight
60 kg
60 kg
60 kg
70 kg
70 kg
Air pressure
0,6 MPa
0,6 MPa
Air consumption at 0,6 MPa
13,2 l/dose
13,2 l/dose
Machine dimensions
H 1180 x W 705 x L 670 mm
H 600 x W 530 x L 650 mm
H 980 x W 704 x L 681 mm
H 900 x W 530 x L 650 mm
H 910 x W 675 x L 1225 mm
Fillers description
Flap volumetric filler
Volumetric fillers
Filler type
KL1
MD2
MD3
DS1
DS2
sensor insuring stable level of goods in hopper
●
●
●
●
●
areas which are in contact with the goods are made of stainless steel
●
●
●
●
●
supporting frame, set of cups, hopper, dumper, electromechanical drive
●
●
●
easy and quick exchange of measuring cup
●
●
●
possibility of emptying of one or more doses at once
●
●
●
easy to use
●
●
●
easy cleaning
●
●
●
small dimensions
●
supporting frame, set of cups, hopper, dumper, electromechanical drive
●
●
easy and quick exchange of measuring cup
●
●
feed-in hopper embedded with retarder
●
●
sensing of limit positions
●
●