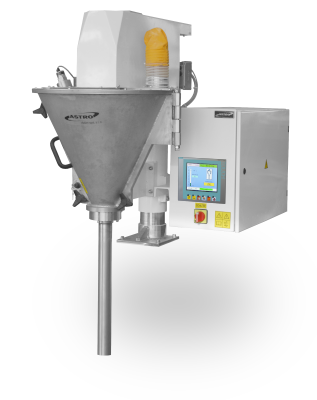 The auger fillers are designed for precise dosing of dusty, powdered, badly loose and some granulated products e.g.: ground coffee, pudding powder, flour, powdered sugar, gypsum, washing powders, color powder, etc.

Wide range of applications
This dosing device is in standard developed as volumetric dosing device for bagging machines of MH type.
Fillers can be adjusted as dosing device for the packaging machine of other producers, or other construction.
For refilling of the feeding hopper is optimal to use feeding conveyor VD5.



High variability of the auger fillers
Technical parameters
| | | | | |
| --- | --- | --- | --- | --- |
| Filler type | SD1bb | SD2bb | SD2bb | SD3bb |
| Output* | to 70 doses/min. | to 110 doses/min. | to 70 doses/min. | to 90 doses/min. |
| Dose volume | 10 ml - 3000 ml | 10 ml - 6000 ml | 1 l - 20 l | 10 ml - 6000 ml |
| Power supply | 3 x 230 V/400 V - 50 Hz | 3 x 230 V/400 V - 50 Hz | 3 x 230 V/400 V - 50 Hz | 3 x 230 V/400 V - 50 Hz |
| Power | 1,4 kW | 2,8 kW | 3,5 kW | 1,4 kW |
| Noise | to 75 dB | to 75 dB | to 75 dB | to 75 dB |
| Weight | 150 kg | 250 kg | 320 kg | 250 kg |
| Air pressure | 0,4 - 0,6 MPa | 0,4 - 0,6 MPa | 0,4 - 0,6 MPa | 0,4 - 0,6 MPa |
| Air consumption at 0,6 MPa | 0,2 l/dose | 0,2 l/dose | 0,4 l/dose | 0,2 l/dose |
| Machine dimensions | H 940 x W 670 x L 1150 mm | H 970 x W 800 x L 1350 mm | H 1300 x W 870 x L 1450 mm | H 970 x W 800 x L 1350 mm |
| Hopper volume | 10 l | 35 l | 75 l | 35 l |
Description
| | | | | |
| --- | --- | --- | --- | --- |
| Fillers type | SD1bb | SD2bb | SD2bb | SD3bb |
| supporting frame, electromechanical drive, distributor, hopper and tube with screw | ● | ● | ● | ● |
| progressive retardation of screw | ● | ● | ● | ● |
| sensor insuring stable level of goods in hopper | ● | ● | ● | ● |
| mixer ensuring permanent looseness of goods in hopper | ● | ● | ● | ● |
| areas in contact with goods are made in stainless steel | ● | ● | ● | ● |
| split hopper for easy cleaning | | ● | ● | ● |
Fillers advantages
| | | | | |
| --- | --- | --- | --- | --- |
| Filler type | SD1bb | SD2bb | SD2bb | SD3bb |
| adaptive system (self-adjustment of portion) | ● | ● | ● | ● |
| adjustment of portion during operation | ● | ● | ● | ● |
| easy and quick replacement of the tube with auger | ● | ● | ● | ● |
Modifications
| | | | | |
| --- | --- | --- | --- | --- |
| Filler type | SD1bb | SD2bb | SD2bb | SD3bb |
| regulation of revolutions speed of dosing auger | ● | ● | ● | ● |
| different types of closing of auger screw | ● | ● | ● | ● |
| integrated controls of SD2bb with machine MH | ● | ● | ● | ● |